Sweet Potato Carrot Cake Muffins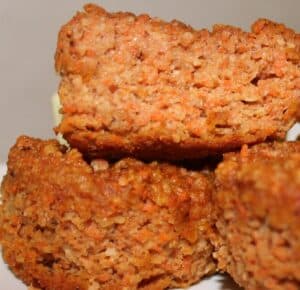 Recipe type:
Snacks/Kid Friendly/Muffins/Dessert
Cuisine:
American/Paleo/Breakfast/Gluten Free/Healthy/Low Sugar
1 ½ Cups Almond Flour
1 tspn Sea Salt
½ teaspoon Baking Soda
1 tspn Cinnamon
½ tspn Nutmeg
¼ tspn Cloves
¼ Cup Maple Syrup
½ tspn Vanilla
2 TBSPNs Coconut Oil (melted)
3 Eggs
1 ½ Cups Carrots, about 5 large carrots, finely chopped (I used a food processor.)
½ Cup Sweet Potato Puree (I just mashed a cooked sweet potato, but I'm sure you could just buy the puree, or substitute canned pumpkin)
Preheat oven to 325 degrees Fahrenheit.
In a large bowl, combine almond flour, salt, baking soda, cinnamon, nutmeg, and cloves.
In a separate bowl, mix together maple syrup, vanilla, and oil.
Then add beaten eggs to wet ingredients.
Also add sweet potato and carrots to wet ingredients. This is easiest with a power mixer or KitchenAid stand mixer, but I just whisked it by hand. It only takes a little longer.
Stir the wet ingredients into the dry ingredients.
Fill 12 cupcake liners ¾ full and bake at 325 F for 25 to 30 minutes or until a toothpick comes out dry.
Recipe by
Shaped By Sherri
at https://shapedbysherri.com/sweet-potato-carrot-cake-muffins/