Dairy Free Pumpkin Chocolate Chip Ice Cream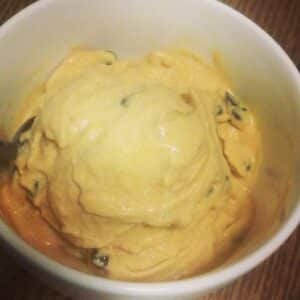 Recipe type:
Dessert/ Ice Cream/ Coffee
Cuisine:
American/Fall/Thanksgiving/Gluten Free/Paleo/Vegetarian/Vegan/Soy Free/ Nut Free/Dairy Free
1 14oz. can of Full Fat Coconut Milk (Native Forest Brand is BPA free)
1 15oz. can of Pumpkin Puree (Farmer's Market Brand is also BPA free)
¼ cup of Honey (or maple syrup for vegan version)
1 teaspoon organic Vanilla Extract (or you can use homemade)
½ teaspoon Cinnamon
¼ teaspoon Nutmeg
¼ teaspoon Ginger
*note: I eyeballed the spices, so I would vary the measurements to your taste. (for example, I don't love ginger, so I didn't use much)
¾ cup Enjoy Life Brand 69% Dark Chocolate Chips (soy, dairy, nut, and gluten free)
Blend all the ingredients, except the chocolate chips, in a blender until smooth and creamy.
*After this step, taste to make sure the spices and sweetness are to your liking.
Side note: I bet you could add this blended concoction to coffee and it would taste like a "Pumpkin Spiced Latte".
Put blended ingredients into ice cream maker for 20 minutes. Add chocolate chips gradually as it starts churning to mix them in evenly.
After 20 minutes, you can eat immediately, or freeze to eat later!
*Alternately, if you do not have an ice cream maker:
Transfer blended mixture with chocolate chips to a freezer-safe container.
Place in the freezer for 4-6 hours, or until firm.
If your ice cream gets too firm in the freezer, allow it to thaw at room temperature for 15-20 minutes before serving.
Recipe by
Shaped By Sherri
at https://shapedbysherri.com/dairy-free-pumpkin-chocolate-chip-ice-cream/