Butternut Squash, Onion, Kale, Olive and Almond "Ricotta" Frittata
(Whole 30 Compliant)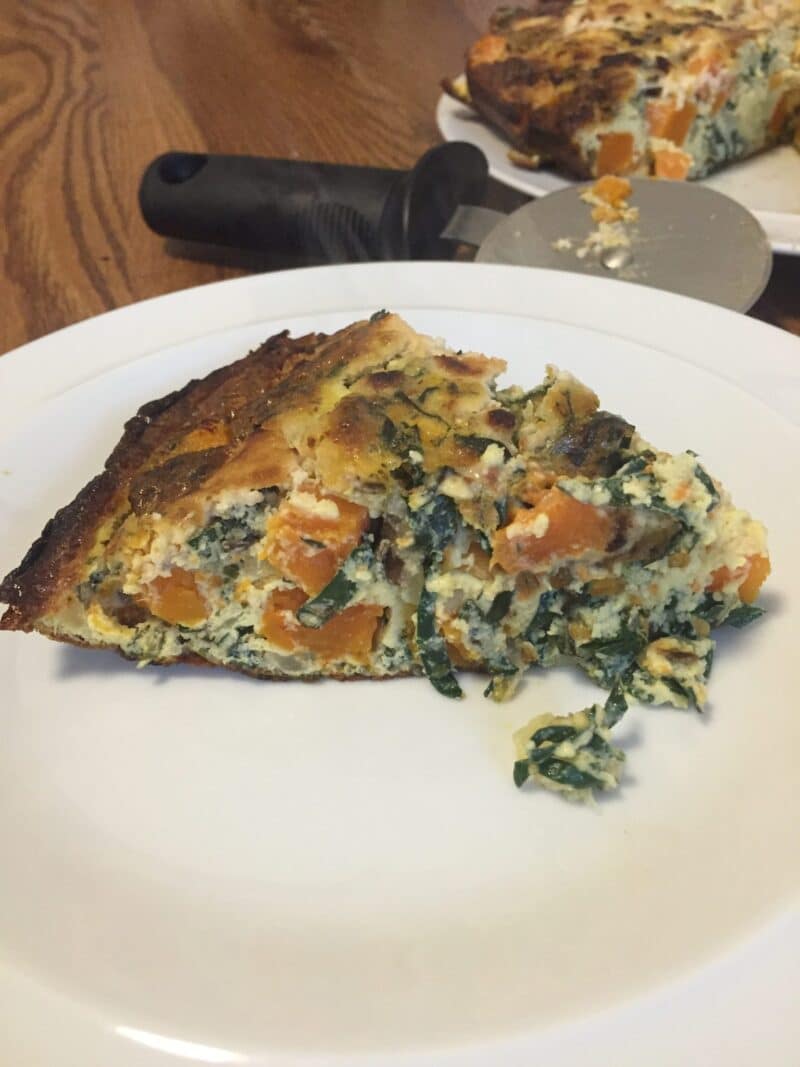 This is a great fall meal.  It works for breakfast, brunch, lunch or even dinner as it is a complete meal with vegetables, protein and lots of healthy nutrients.  I've made this one dairy free with almond "ricotta", but if dairy doesn't bother you, you can certainly use real ricotta or cheese of your choice for a salty bite in this recipe.
Ingredients:
1 butternut squash, cut into 1/4 inch cubes
olive oil
1 onion, diced
5 leaves of kale, sliced into thin ribbons
1/4 cup of black olives, roughly chopped
1/4 cup almond "ricotta" (or regular ricotta)*
8 eggs
5 tablespoon olive oil
3 tablespoons cold water
1 tablespoon herbs de Provence
salt
pepper
ghee
Directions:
Preheat the oven to Broil.
Fill a large pot with salted water and the butternut squash, cover and bring to a boil.  Continue to boil until the squash is fork tender. Drain the cooked squash and sprinkle with salt.
Meanwhile, heat the oil in a 10 inch nonstick skillet and saute the onion and kale with a pinch a salt until the kale is wilted and the onions are translucent.  When cooked, set aside in a bowl and wipe the skillet with a towel or paper towel.
Whisk the eggs, oil, water, herbs, salt and pepper together.
Add the butternut squash, kale, onion, and black olives to the eggs and stir together.
Heat the skillet and melt a tablespoon of ghee in it to coat the sides and the bottom of the skillet.  Pour the egg mixture into the skillet and dollop the top of it with the ricotta.  Cover the eggs and cook over low heat until it's about 2/3 set. The middle will still be jiggly.
Remove the lid and place the skillet in the oven on the top rack to broil for 10 minutes.  Check to make sure the middle is set.  If it's not, it needs a few more minutes. Once the middle is set, the frittata is done.
Remove from the oven and cover with a large plate.  Flip the pan over and remove it.  You now have a plate with an upside down frittata. Place a second plate on top of the first plate and flip over again. Remove the top plate to reveal a right side up frittata.
Let cool for at least 15 minutes and slice into 8 wedges. (I like to use a pizza cutter).
*Almond Ricotta Recipe By Laura Bondi: 
(Recipe adapted from Vegetarian Times)
Ingredients:
1 cup whole blanched almonds, soaked overnight 
(or quick soak by covering with boiling water for 20 minutes)

¼ cup fresh lemon juice (about 2 lemons)

3 tablespoons plus 1 teaspoon olive oil

1 small or ½ large clove garlic, peeled

1 teaspoon salt

1/4 cup cold water



Directions:
Drain and rinse soaked almonds with cold water.

In a food processor puree almonds, lemon juice, olive oil, salt and

water until very smooth and creamy, about 6 minutes.