Mexican Chicken Soup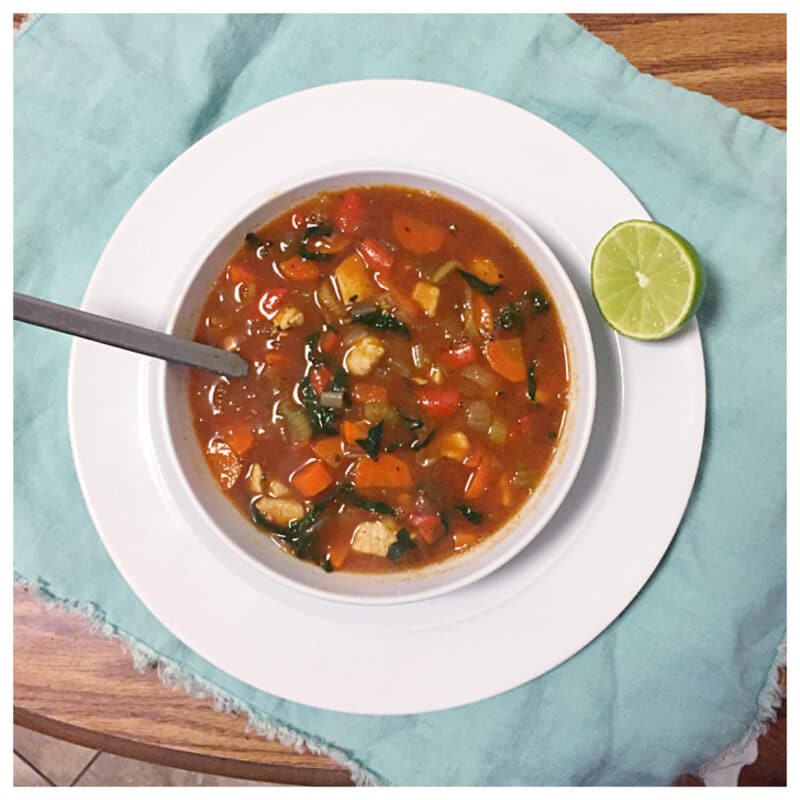 This is a variation on my quick chicken soup.  Once you know the basic chicken soup recipe, you can change it up and make it all different ways.  This is one of my favorite forms of this soup.  I made it one night when I was a bit tired of my traditional version, so I added to my chicken soup base to make it more of a "south of the border" flare.  And I've added a bonus recipe for tortilla strips if you like to add some crunch to your soup.
Ingredients:
3 tablespoons oil, divided
1 yellow/white onion, medium dice
2 carrots, peeled and medium dice
2 celery, meidum dice
1 red bell pepper, stem and seeds removed, medium dice
1 zucchini, spiralized into noodles
1 teaspoon Salt (more to taste)
1/2 teaspoon Pepper (more to taste)
1 teaspoon garlic powder (more to taste)
1/2 teaspoon coriander (more to taste)
1/2 teaspoon cumin (more to taste)
1 teaspoon chili powder (more to taste)
1/4 teaspoon parsley (more to taste)
1/4 teaspoon oregano (more to taste)
1/2 teaspoon aleppo pepper (more to taste)
1 32 oz. box chicken bone broth
2 8 oz. boxes chicken bone broth
1 7 0z. jar tomato paste
1 lb. chicken breast, cut into 1 inch chunks
splash Umeboshi vinegar
2-4 dashes Frank's Red Hot sauce
Juice from 1/2 a lime
4 leaves of lacinato kale, cut into thin ribbons, "chiffonade"
Directions:
Heat 2 tablespoons of oil in a soup pan. Add the onion, carrots, celery, red peppers and zucchini with salt and pepper.  Sweat the vegetables on medium heat, stirring often, until they are shimmering with liquid in the pan and onions are starting to soften.  Add the garlic powder, coriander, cumin, chili powder, parsley, oregano, and aleppo pepper. Stir into the vegetables and cook for another 2 minutes.
Add the bone broth and the tomato paste. Bring to a boil and then cover and simmer.
Meanwhile, in a saute pan, heat the remaining tablespoon of oil and saute the chicken with salt and pepper until it's cooked through.  I like to brown mine a little, but it's up to you.
Add the cooked chicken to the simmering broth and return to a boil. Then bring back down to a simmer and add umeboshi vinegar, hot sauce, and lime juice.  Taste and season as needed.
Stir in the kale and cook until just wilted.
Serve warm.
For the Tortilla strips:
Ingredients:
4  Brown rice tortillas
coconut oil
salt
Directions:
Preheat the oven to 350*F.
Brush the tortillas (top and bottom) with coconut oil.
Slice them into thin strips (about 1/2 inch) and place onto baking sheets with space between each strip.
Sprinkle with salt.
Bake for about 8 minutes.
Serve on top of your soup.