Shredded Beef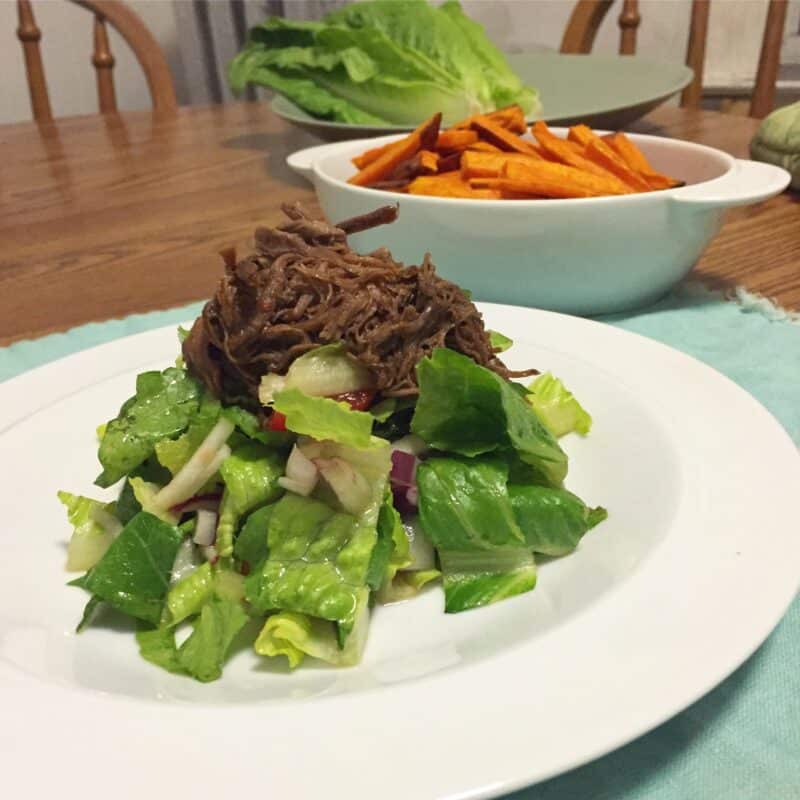 This dish is an easy slow cooker wonder.  When it's finished it makes a great filling for tacos  or taco salad.  And any leftovers can be rolled over into a mexican style soup with broth, frank's red hot sauce, lime juice and some veggies, like carrot, celery, onion and wilted greens.
Ingredients:
3-4lb. grassfed beef roast, fat trimmed
1 tablespoon chili powder
1 tablespoon crushed chipotle pepper
2 teaspoons cumin
2 teaspoons coriander
2 teaspoons salt
1 teaspoon black pepper
4 cloves garlic
1 medium onion, skin removed and quartered
1/4 cup lime juice (about 2 limes)
1/4 cup tomato paste
1 tablespoon plus 1 1/2 teaspoons apple cider vinegar
3/4 cup beef or chicken stock
3 bay leaves
Directions:
Place the trimmed roast into the bottom of your slow cooker.
Blend together the chili powder, chipotle pepper, cumin, coriander, salt, pepper, garlic, onion, lime juice, tomato paste and apple cider vinegar in a blender until smooth.  Spread the paste over the top of the roast.
Pour the stock over the top of it and add the bay leaves.
Slow cook on low for 7 hours.
Remove the bay leaves and discard and shred the beef with two forks.
Place the meat back into the crock pot with all the juices and cook on low for another 1-2 hours.  Serve!